Did You See this Lexus Commercial at the Super Bowl?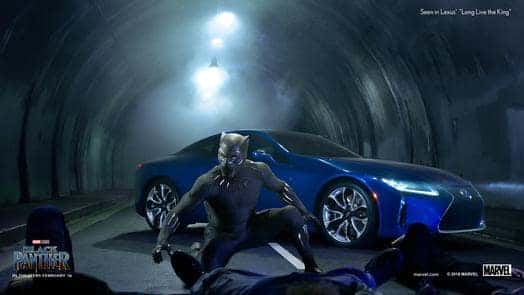 Did You See this Lexus Commercial at the Super Bowl? We've written before about the two new models Lexus has designed that were inspired by the movie, but now we excited to see the action in the newest commercial spot featuring the Black Panther. The spot, "Long Live the King," features the 2018 Lexus LS 500 F Sport with the Black Panther, whose movie will be opening in theaters on February 16th. The song "Legend Has It" by Run the Jewels is also used in a film trailer, and debuted at # 1 on Billboard's Top R&B/Hip-Hop Albums chart for the physical release.
"There is an authentic match between the duality of both the Black Panther and the LS. The spot utilizes the Black Panther's life as a Super Hero and as royalty to show the two sides of the LS: performance and luxury," said Cooper Ericksen, Lexus vice president of marketing. "The stars aligned for this Super Bowl spot, with Lexus launching our flagship sedan and audiences primed for Marvel Studios' highly anticipated release 'Black Panther.' Uniting LS with Black Panther on advertising's biggest stage was an opportunity we couldn't pass up."
"This spot feels beautifully cinematic from start to finish," said Mindy Hamilton, Marvel's senior vice president of global partnerships and marketing. "With a character as important as Black Panther and a brand as iconic as Lexus, we knew that we had to rise to the occasion by creating something unforgettable. It's a climactic moment for all of us as we come together to celebrate this wonderful collaboration and enjoy the big game."
Check out the full spot here:
For more Lexus news, Follow us on Twitter or Like us on Facebook.