Lexus LF-1 Concept Finally Debuts at North American International Auto Show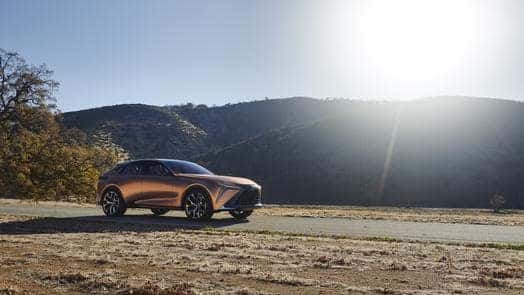 Lexus LF-1 Concept Finally Debuts at North American International Auto Show! The new Lexus LF-1 concept is finally here! After establishing the luxury crossover segment two decades ago with the global debut of the RX 300 at Detroit, Lexus remains the top-selling luxury crossover despite nearly 50 competitors that have since entered the segment. Introducing the Lexus LF-1 Limitless concept, this flagship crossover combines high performance with unrestrained luxury, showcasing technology, innovation and the latest evolution of design.
"This is our vision for a new kind of flagship vehicle that embraces crossover capability without giving up the performance and luxury delivered by today's top sedans," said Kevin Hunter, president, CALTY Design Research. "The LF-1 Limitless concept incorporates imaginative technology while creating a strong emotional connection by improving the human experience for the driver and passengers."
The limitless name comes from the potential for the model to be powered by fuel cell, hybrid, plug-in hybrid, gasoline, or even all-electric. By around 2025, every Lexus model around the world will be available either as a dedicated electrified model, or have an electrified option. According to the press release, "The innovative spirit of the LF-1 was created at CALTY Design Research in California. The design language is rooted in the simple yet elegant design concept dubbed "molten katana". This design visualization fuses the organic shapes of liquid metal with the sharp edges of a traditional Japanese sword. Imagining that shift from a smooth, flowing mass into a solid, chiseled shape formed the basis for the fluid, yet aggressive design of the LF-1 Limitless."
"There's no doubt that luxury crossovers are an increasingly popular choice for luxury customers," said Lexus General Manager Jeff Bracken. "This LF-1 Limitless concept illustrates what could happen if Lexus were to add a flagship crossover to our line-up. It's a gorgeous execution and we're anxious to see our customers' and dealers' response."
Specifications
| | | |
| --- | --- | --- |
| Length | 197.4 inches | 5014 mm |
| Width | 78.2 inches | 1986 mm |
| Height | 63.2 inches | 1605 mm |
| Wheelbase | 117.1 inches | 2974 mm |
Check out the video to get a better understanding of this new model.

For more Wilde Lexus news, Follow us on Twitter or Like us on Facebook