Meet the 2018 Lexus LS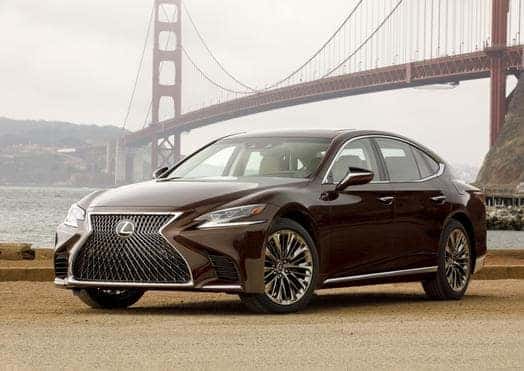 Meet the 2018 Lexus LS! The Lexus LS sedan fifth generation is here and staying true to its benchmarks in craftsmanship, quality and long-term dependability. The new model will also be the star of the 2018 Super Bowl commercial that will see the model pairing up with the Black Panther.
"The 2018 LS is one of the most important launches in our brand's history, so it makes sense for us to use a stage like the Super Bowl to showcase it to our customers. The LS not only offers unsurpassed performance, style and luxury, its competitive pricing makes it a great value as well," said Lexus Group Vice President and Division General Manager, Jeff Bracken.
The new LS features the new platform as well as an all-new 3.5-liter, twin turbocharged V6 that delivers 416 horsepower and 442 lb-ft of torque. Both numbers represent significant gains over the outgoing LS model's naturally aspirated 4.6-liter V8 (386 hp and 367 lb-ft).
| | | | |
| --- | --- | --- | --- |
| | LS 500 | LS 500h | LS 500 F SPORT |
| MSRP* RWD / AWD | $75,000 / $78,220 | $79,510 / $82,730 | $81,000 / $84,220 |
| Interior Upgrade Package – Quilted-stitch, perforated semi-aniline leather-trimmed interior, 28-way power driver's seat with multifunction massage, power front seatbelt buckles, heated rear seats and more. | $3,730 | $3,730 | N/A |
| Luxury Package – 28-way power passenger seat with multifunction massage, passenger-seat power cushion extender, 18-way heated and ventilated power-reclining rear seats with memory, remote adjustment for passenger seat, four-zone climate concierge. | $12,290 / $12,270 | $12,270 / $12,250 | N/A |
| Executive Package – Butterfly power-retractable front headrests, 22-way power rear seats with butterfly headrests, memory and multifunction massage with heat. | $17,100 / $17,080 | N/A | N/A |
| Executive Package with Kiriko Glass – Kiriko glass interior door trim, hand-pleated interior door trim, 22-way power rear seats with butterfly headrests, memory and multifunction massage with heat. | $23,100 / $23,080 | $23,080 / $23,060 | N/A |
| F SPORT Performance Package – Dynamic Rear Steering, Variable Gear-Ratio Steering, active stabilizers. | N/A | N/A | $9,700 RWD only |