Your Guide To The Lexus ES Hybrid Dashboard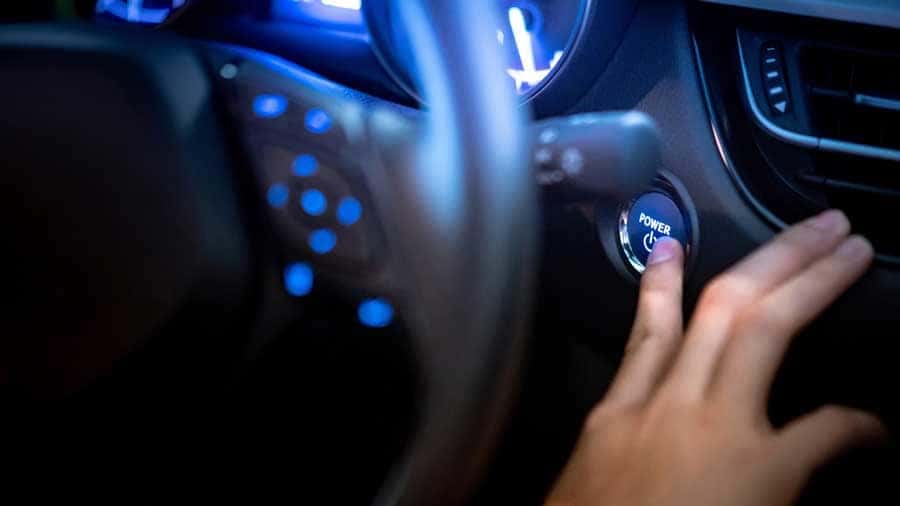 The Lexus brand is synonymous with luxury and innovation. And now the automaker is becoming greener with the Lexus ES hybrid model.
The 2019 Lexus ES 300h is not only eco-conscious; it's tech-forward too. But deciphering all the controls and messages on the dashboard does require some learning.
Here's a quick guide to understanding the important indicators on the ES hybrid so you can enjoy the ride with confidence.
Lexus ES Hybrid Model Overview
The non-hybrid Lexus ES is a midsize luxury sedan that offers a blend of comfort, performance power, and safety and entertainment features. And the 2019 Lexus ES 300h is the hybrid version that brings all of that to the table with a greener touch.
There are three main trim levels to choose from: the standard base trim, Luxury, and Ultra Luxury. Each trim offers some unique amenities, but there are also some common assets across the board.
Mechanical Specs
Regardless of the trim level you choose, each ES hybrid model is equipped with a hybrid powertrain that combines a 2.5-liter, four-cylinder engine with an electric motor. The total power output is 215 horsepower.
On the road, you can expect an EPA-estimated combined 44 MPG for both city and highway driving and a total driving range of 581 miles.
Technology and Comfort
If you pull up any Lexus ES 300h review, you'll be pleased to learn about all the on-board technology and comfort assets.
This vehicle is known for offering a very high-end riding and driving experience. The seats are plush and supportive, and there's minimal disturbance from bumps in the road. There's also automatic climate control and ventilation and heating in the front seats for maximum temperature comfort.
Connectivity is also a breeze, thanks to standard tech features, including:
An 8-inch touchscreen display
Three USB ports
10-speaker sound system
On-board Wi-Fi
You can also opt for an available navigation system with a larger 12.3-inch display that comes with Apple CarPlay.
Safety Features
Another strength of the Lexus ES 300h is the safety profile. All trim levels come with the Lexus Safety System Plus. This advanced safety suite includes the latest driver aids such as blind-spot monitoring with rear cross-traffic alert, parking assistance, automatic emergency braking, and lane-keep assistance.
Understanding the Lexus ES Dashboard
Considering all the amenities the Lexus ES hybrid has to offer, it's easy to understand why there are many dashboard indicators to pay attention to.
Not all of these signals indicate a problem, but it will be helpful to know just what to look for when using all the exciting features.
Where to Look for Warnings and Indicators
The main places to look for system warnings and indicators are the instrument cluster above the steering wheel and center panel. You'll also see signals on the side mirrors.
System Warnings
There are several system-wide warnings to keep an eye out for. These warning messages let you know something may be malfunctioning in your vehicle.
Here are a few that require immediate action:
Check Engine Light: The check engine light is not always an indicator of an immediate problem. Sometimes it can light up if your gas cap is loose. It is worth noting and scheduling a service appoint met with a trusted mechanic just to be sure.
Check Hybrid System: This message means that something is not right in the hybrid system in your vehicle. It's best to stop the car in a safe place and contact your trusted Lexus dealer for advice.
Hybrid System Overheat: If you see this message, your system may be overheating. It's best to stop the vehicle and check into this.
Brake System Warning: You'll see this warning light as text on your dashboard in the event that something is wrong with your brake system. You will also hear a buzzing sound. This warning light could mean you're running low on brake fluid or that the parking brake hasn't been properly released.
Other general warning signals you may see include a low fluid-level warning, an icon that indicates when doors are open, a seat belt reminder signal, and a tire pressure warning light when your tire inflation is off.
System Indicators
Certain icons don't indicate a problem at all. These signals simply let you know your operating state. You'll find the following on the Lexus ES 300 hybrid instrument cluster.
Turn signal indicator
Lane-departure alert
Head and taillight indicator
EV indicator
Cruise control setting
Airbag on/off indicator
You can also find other general info like your speed, total distance driven (on the odometer), hybrid driving mode, and the engine coolant temperature.
The multi-information portion of the instrument cluster offers a few other interesting pieces of data like the temperature outside the vehicle, fuel consumption, energy monitor, and estimated maximum driving range.
Advanced Driver Aid Indicators
The advanced driver-assist tools in the ES hybrid appear in icon form, messages, or vibrations and buzzes.
Lane-departure alert warning: You'll see this warning on your information cluster if the system sensors that you're wandering outside your line. You'll also hear a beeping noise.
Hill-start assist: This feature helps you safely start the vehicle when you're on an incline. You'll know you've fully activated this tool because a buzzer will sound and you'll see the slip indicator icon light up on the dashboard.
Pre-collision system: You can turn this feature on or off using a switch. You'll know if it's disabled when you see the PCS warning light.
Blind-spot monitor: This feature is controlled by a switch, which will light up when it's enabled. You'll also see lights on the side mirrors when the system detects activity in the blind spot.
Rear cross-traffic alert: If the system senses that a car is approaching from either side of the rear of the vehicle, a buzzer will sound and the outside mirrors will illuminate too.
Explore the Lexus ES Hybrid in Person
When you're ready to take the next step beyond reading Lexus ES 300h reviews, learning about the Lexus ES 350 interior, and learning about dashboard signals, contact us. We'll arrange a test drive or answer any lingering questions you have about the ES hybrid in person.