Sarasota Freshwater and Lake Fishing – A Local's Guide to Fishing Spots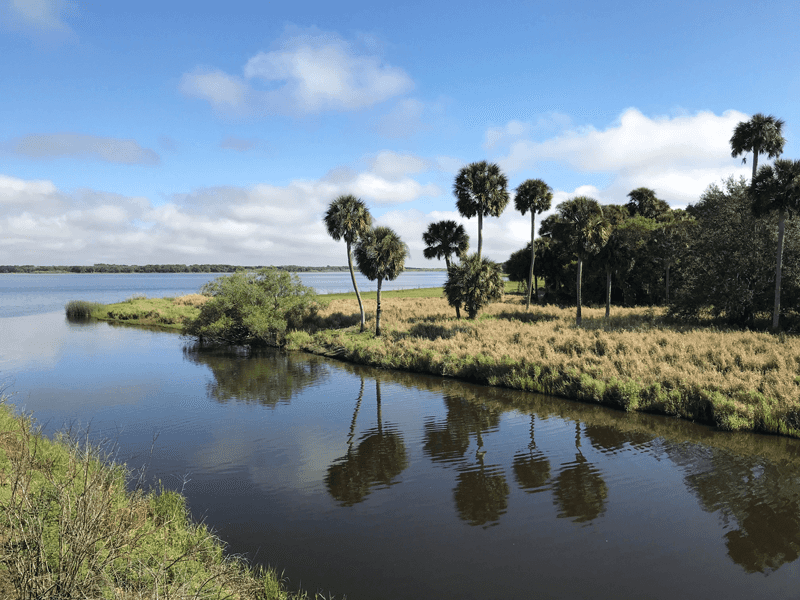 If you have lived in Sarasota for any length of time, the following is probably a familiar sight:  A car pulls up alongside a small pond or lake.  Out jumps a person clad in a work uniform or obvious business attire who then proceeds to produce a fishing rod from the car's trunk or back seat.  He or she fishes for 20 minutes or so then jumps back into the car and speeds off, presumably headed back to work.
Therein lies one of the simple pleasures of freshwater fishing in Sarasota.  You can spend an entire day leisurely fishing some of the region's most iconic lakes and rivers.  Or you can enjoy an impromptu fishing expedition like the one described above.  It doesn't require much planning or effort.  No boats or expensive charters.  No trips out to sea.  And the equipment needed doesn't set you back a week's pay.
Personally, I prefer a nightcrawler on the hook and my feet on dry land when I fish.   The type of fish I catch—or indeed whether I catch anything at all—is almost beside the point.  Fishing at the river's edge is my way to relax, shake off stress and enjoy Florida's spectacular interior waterways.
For the type of quick-fix fishing trip described above, Sarasota offers plenty of options.  Check out the Celery Fields and its nearby neighbor Ackerman Park.  Also worthy of a quick fish are Red Bug Slough Preserve, Nathan Benderson Park, and Twin Lakes Park.   Depending on where you live there may be better options, as Sarasota County offers a multitude of parks and recreational facilities, many with the opportunity for a quick fish.
For more serious freshwater fishing, however, the Sarasota region offers three major river systems: the Myakka River, the Braden River, and the Manatee River. Each of these typically includes long stretches of river that flow away from freshwater lakes that have been created through a series of dams.  Below these dams, the water typically becomes more brackish as the rivers get closer to the sea.
A fourth watershed, the Peace River, is much further inland but still worth mentioning, because it is close enough to Sarasota for an easy day of fishing, not to mention a beautiful drive through miles of farms, ranches, citrus groves, and an occasional old-Florida town.  Indeed, the drive from Sarasota to Arcadia along State Road 72 is often cited as one of the most beautiful in the State of Florida.  Along the way you will pass Myakka River State Park, which is one of the largest state parks in Florida and easily the best place to freshwater fish in Sarasota County.   (The other two rivers are technically in Manatee County, but well within the Sarasota-Bradenton Metro Area.)
The Myakka River
The are many places to access the Myakka River as it meanders from its Manatee County headwaters to the Gulf of Mexico.  By far, the easiest is at its namesake park, Myakka River State Park—about 20 minutes outside Sarasota–where the best time to fish is early morning (the park opens at 8 a.m.) or late afternoon (after 5 p.m.).  In between things get busy, especially on weekends and during the peak winter season (January-March).  Happily, most people go there to sightsee and tend to cluster near the picnic and concession areas.
As a fisherman, you won't be too bothered by the crowds, unless you fish from the small bridge that spans the river just minutes north of the park's main entrance, where visitors gather to view some of the largest alligators you are ever likely to see.  You are also likely to see plenty of large wading birds.  Both are good signs, because where there are gators and big wading birds, the fish can't be too far away.
Don't be too surprised if a gator goes after your fishing line.  They have been hanging around the bridge long enough to know there might be something tasty attached to it.  The fish most often caught from the bridge is tilapia, an invasive species that you can never catch too many of. (If you catch one, don't throw it back!) Other fish that inhabit the river include largemouth bass, catfish, speckled perch, gar, and bream.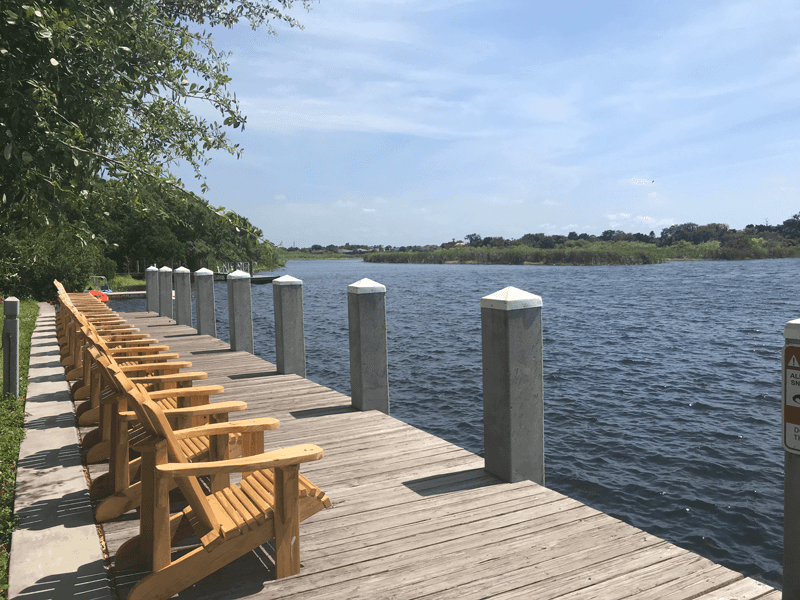 The Braden & Manatee Rivers
We lump these two rivers together, because one of them—the Braden—is a tributary of the other, the Manatee. Each has a freshwater lake or reservoir that was formed when dams were built to harness fresh drinking water for a rapidly expanding population.  At the same time, they created excellent natural habitats for freshwater fish.
The Evers Reservoir—located south of State Road 70, between I-75 and downtown Bradenton—started out as Ward Lake before being dug out and dammed-up in the late 1930s.  A major expansion was completed in 1986, increasing the reservoir's area to roughly 360 acres, with a capacity for over 1.4 billion gallons of fresh water.  Today, the reservoir is not only the city's primary source of drinking water, but also an excellent source of largemouth bass, catfish, bream, and speckled perch (a.k.a. "crappie").
The Jigg's Landing Preserve, located on the eastern shore of Evers Reservoir, is a Manatee County landmark that began life as a fish camp back in the 1940s.  Freshly renovated a few years ago, it continues to offer freshwater fishing and canoeing. Other amenities include a boat ramp, fishing dock, cabin and kayak rentals, playground and a concession offering food, beverages, bait, and tackle.
Further east, Lake Manatee—a reservoir created when the Manatee River was dammed up in the 1960s—offers a variety of freshwater species, including largemouth and sunshine bass, speckled perch, bluegill, shell cracker, and catfish.
Located a few miles east of Interstate 75, off State Road 64, Lake Manatee is a body of water that most fishermen pass on their way to more popular fishing spots.  One reason could be its reputation for being tough on all but the most patient and experienced anglers.
There are two boat launch ramps on the Manatee River:  One within Lake Manatee State Park; the other at the end of a dirt road adjacent to Lake Manatee Fish Camp (at the intersection of State Road 64 and County Road 675, in Myakka City).  We recommend the state park, as the launch facility has more car and trailer parking and is much better maintained and monitored.  Moreover, since knowledgeable fishermen advise that the fish tend to gather in the submerged vegetation just offshore, there are ample places within the park to easily access the shoreline on foot.
The Peace River
More than 100 miles long, the Peace River begins in Polk County then flows south through Hardee, DeSoto and Charlotte Counties before entering the Gulf of Mexico at Charlotte Harbor. U.S. Route 17 basically parallels the Peace River and offers several major access points for fishing the river.  Principle among these are Wauchula, Zolfo Springs, and Arcadia.
Very popular with fossil seekers and canoeists, the Peace River offers excellent fishing for largemouth bass, bream, and catfish.  Because there are no major dams to prohibit salinity from encroaching north, snook weighing over 30 pounds have been caught as far upriver as Fort Meade, in Polk County.
Licensing Requirements:
In most cases, adults must obtain a fishing license to legally fish in the State of Florida. A license is not required for children under 16 years of age; or if you are a Florida resident 65 years of age or older and possess proof of age and residency—such as a Florida driver's license.
Check here for additional exemptions.
In most cases, if a license is required you can obtain it on the spot simply by using your smart phone and a credit card.